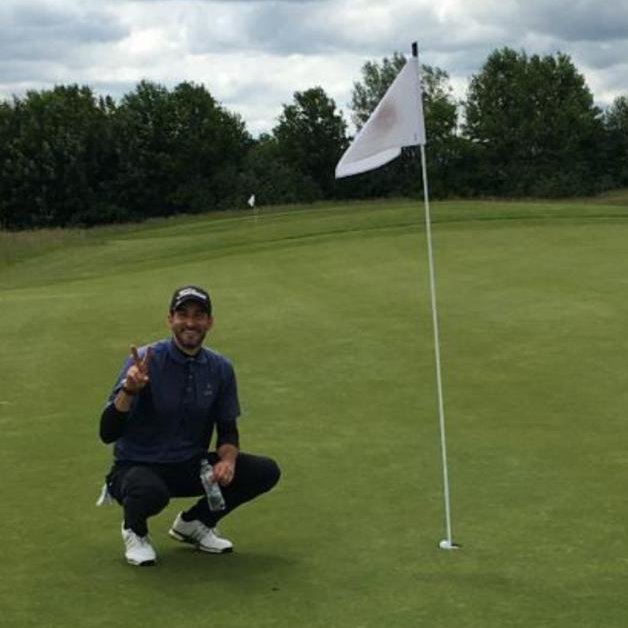 Tarek Baraka
Tarek Baraka, Golf Club München Valley e.V - Bavarian Champion over-30 2019, Player 1st Team, AK30 Men
I would like to start this "review" with a few short sentences about myself - my name is Tarek Baraka and I am 39 years old.
I learned to play golf in 1992 at the Munich Golf Club, where I was a member until 2007.
In 2009 I moved to GC Munich Riedhof, where I was active until 2019. In my golfing "career" I was active in the respective teams in both the Munich Golf Club and the GC Riedhof. I have taken on responsibility as a player and as a captain in my previous clubs and have been actively involved.
My collaboration with Danny Wilde and his golf sport manufacturer started in October 2019. I train and play for both the men's team and the AK30 at GC München Valley. Just 4 months after starting the collaboration with Danny Wilde, I can already see significant positive changes at various levels. The holistic approach that is practiced in the golf sport manufactory has enabled me to improve greatly in physical (fitness & nutrition & physio), technical (swing-specific) and psychological (sport psychological) areas.
One of the most interesting and special features of the team around Danny Wilde is the comprehensive and coordinated cooperation between the individual coaches. All training aspects mesh like individual gears and the communication between the different trainers is so closely coordinated that each athlete receives a completely individually tailored training concept. This concept is adapted and developed further depending on the progress of the individual players. The holistic and individual care of the athletes is reflected by a very positive and dynamic mood within the team. As a newcomer, I was immediately integrated and positively received by both the AK30 and the men's team.
From my 25 years of experience, I find the particularly concentrated and goal-oriented training morale, combined with an extraordinarily positive and energetic mood, incomparable and unique. This balance between focus and fun is exemplified by Danny Wilde and his team and can thus be experienced in every training session. Ultimately, it is important to emphasize the training options that every golfer is offered by the golf sport manufacturer. In addition to fully-fledged physiotherapy and a state-of-the-art fitness studio, training options are available for the long and short game to be well armed and motivated to start the new season again. In addition to personal commitment, the athletes in the golf sport manufactory are supported at the highest technical level. The training options with several Trackmans, screens and projectors enable the students to work on their swing with pleasure in the winter months.
I am happy and proud to be a team member of the golf sport manufactory.
Danny - thank you for your effort and the patience you invest in us and the development of golf.
Thanks a lot!