Dross&Schaffer Schäfflertanz int. Open
Inspired by the Munich Schäfflertanz, Golfsport Manufaktur and Golf Club Valley are hosting the Dross&Schaffer Schäfflertanz International Open at Golf Valley.
Damen Results
Herren Results
The Schäfflertanz international Open 2020, the first international tournament after the government imposed Corona Pandemic restrictions was already a great success in the first year and gets a second edition. From more than 250 registrations, the best 144 participants with a total of 84 men and 60 women could already qualify for it last year.
A test run, also for the German Golf Association, which was organized in a very short time and had to prove itself. It was a tournament that we perceived as very relaxed and extremely orderly. We are pleased to welcome spectators this year.
We would like to thank in advance our main sponsor the Dross&Schaffer Group, which has been operating for more than 50 years according to the idea "Achieving more together". In addition to the 6 flagship stores in and around Munich, another 350 partner studios in Germany, Austria and Italy convince with their personal and individual advice with the aim of developing first-class kitchen concepts (www.dross-schaffer.com).
Due to the proximity of the Dross&Schaffer studio in Warngau, directly on the way to the golf course, and the fitting pun by Dany Wilde "Schaffer - Schäffler", this wonderful cooperation for the only international amateur world ranking tournament the Dross&Schaffer Schäfflertanz international Open 2021 was born.
In addition, we would like to thank the golf course owner family around Michael Weichselgartner, who always has an open heart for sporty ideas and supports them actively on their biodiverse course, Golf Valley.

Why Schäfflertance:
Inspired by the Munich Schäfflertanz the Golfsport Manufaktur and Golf Valley invented the Golfsportmanufaktur Schäfflertanz Intl. Open at Golf Valley. The Schäfflertanz is a guild dance of the Schäffler (barrel keeper, barrel manufacturer), who dance to music with fixed figures. It is originated in Munich. There is a legend that the dance was first performed during a plague epidemic in 1517 in order to calm the population, who hardly dared to go out on the streets because of the plague, and to get public life going again. In line with this tradition and the bad current pandemic caused by the corona virus, we want to invite people in Munich and around the world to go out again to watch good golfers playing and dancing with their clubs at Golf Valley.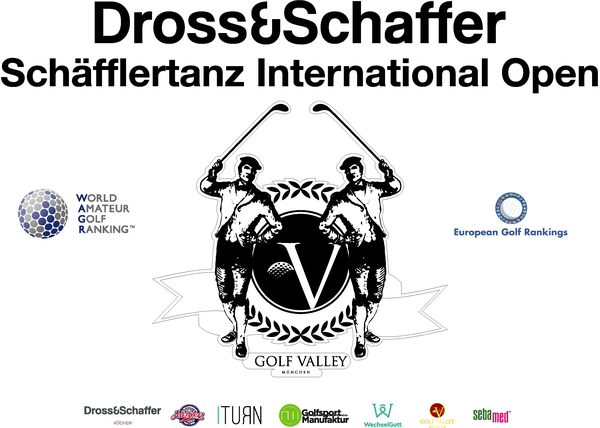 Termine
| | | |
| --- | --- | --- |
| Montag | 16 August 2021 | Proberunde |
| Dienstag | 17 August 2021 | 1. Runde |
| Mittwoch | 18 August 2021 | 2. Runde |
| Donnerstag | 19 August 2021 | 3. Runde |
Content
Livescoring
Prices All prices incl. VAT
Results
Damen Results
Herren Results
Announcement
Adjustment
Entry fee to the following Bank:
Company: Golfsport Manufaktur GmbH
Usage: Schäfflertanz Open 2021
IBAN: DE18700202700020051172
BIC: HYVEDEMMXXX
Player - Coach - Press - Tournament Stuff Registration
The following accreditations must be made before/when entering the facility.
1. one time facility and basic accreditation (player/coach/press/turnament stuff)
(QR in front of the Golfsportmanufaktur building entrance right or now via link:
2. each time a Quick Location Confirm via QR Code at the following points:
a. Golfsportmanufaktur Building
b. Clubhouse
c. driving range
d. Golf course
e. Restaurant
f. Gym
The much more comfortable app will hopefully be available Monday evening.
On all tournament and training round days, only authorized club and event staff, game management, referees, tournament assistants, registered PGA coaches, state and federal registered coaches and LGV staff are allowed to enter the golf course and the practice area. The above mentioned persons do not form groups of >10 persons in public areas at any time.
All further hygiene guidelines can be read below.
Further Information
Protection and hygiene conception of the GSM Schäffler intl. Open according to the DGV tournament organization for single tournaments
Annexes
With regard to the pandemic requirements, we comply with the currently valid Bavarian Ordinance on Infection Protection Measures as well as the "Corona Pandemic: Sports Hygiene Concept and the regulation published by the Federal Ministry of Health (BstMi) which will apply in Bavaria. Furthermore, the Golf Club Valley has a hygiene framework concept that has been tested and approved by the District Office.
With regard to the golf rules, we will apply the official status of 22.05.21, which is to be agreed with the pandemic. Hotels are open and the international tournament is currently taking place without supporting programmes.
Press
Pressetext